If you need to measure the temperature of an object at a distance, then you need to use a best infrared thermometer for this. Such an instrument will help you measure the temperature any object without having physical contact with it. Usually, it takes no more than a seconds to measure accurately. This kind of instrument is perfect for cooking, for example, to measure the temperature of a frying pan or oven. It is also possible to easily measure the temperature of the heater, for this it is enough to aim the device at an object. Similarly, an infrared thermometer can measure the temperature of moving parts to understand how much they heat up – this use will be useful for those who like to make something in the garage.
Now please read infrared thermometer reviews where we tried to choose the ten best thermometers and studied each separately so that you could make the best choice.
Laser Infrared Thermometer Comparsion
Best infrared thermometer reviews
Etekcity Lasergrip 1080 Non-contact Digital Infrared Laser Thermometer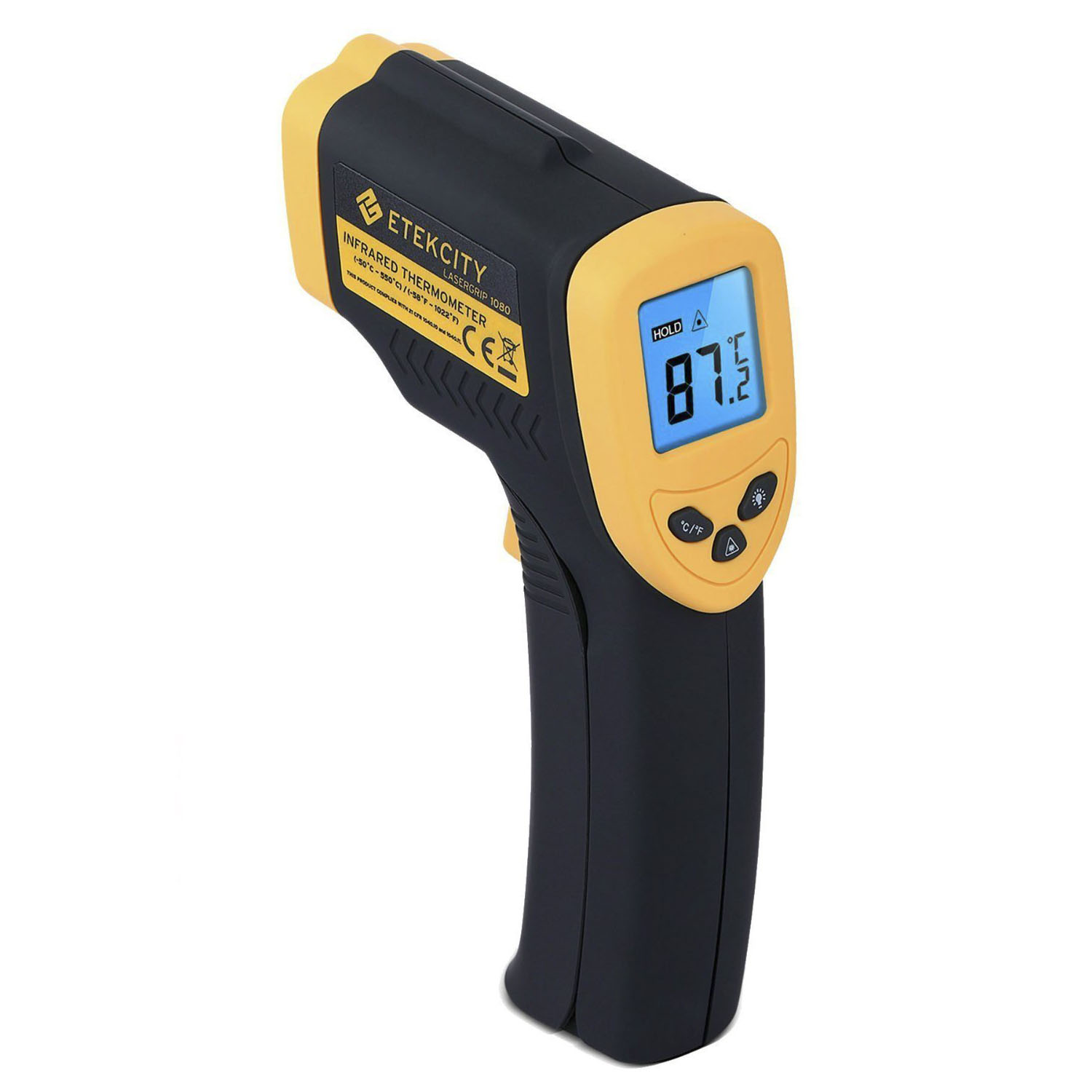 The first in today's review will be an infrared thermometer from the Electricity brand. Electricity is by far the leader among the sales of these devices on Amazon. Lasergrip 1080 can measure temperatures in the range -58 ° F (-50 ° C) and 1022 ° F (550 ° C). This is enough for regular household use. The LCD screen has a backlight, and simple switching between units such as degrees Celsius and Fahrenheit is available. A fast response time, which is about 500ms, will allow you to measure the temperature of an object almost instantly. The infrared pyrometer is powered by 9V Battery, which is already included. The significant advantage of this device is a two-year warranty. If the manufacturer gives such a guarantee, then you can be sure of the quality of this his instrument.


ANGGO IR Infrared Non-contact Digital Temperature Gun Thermometer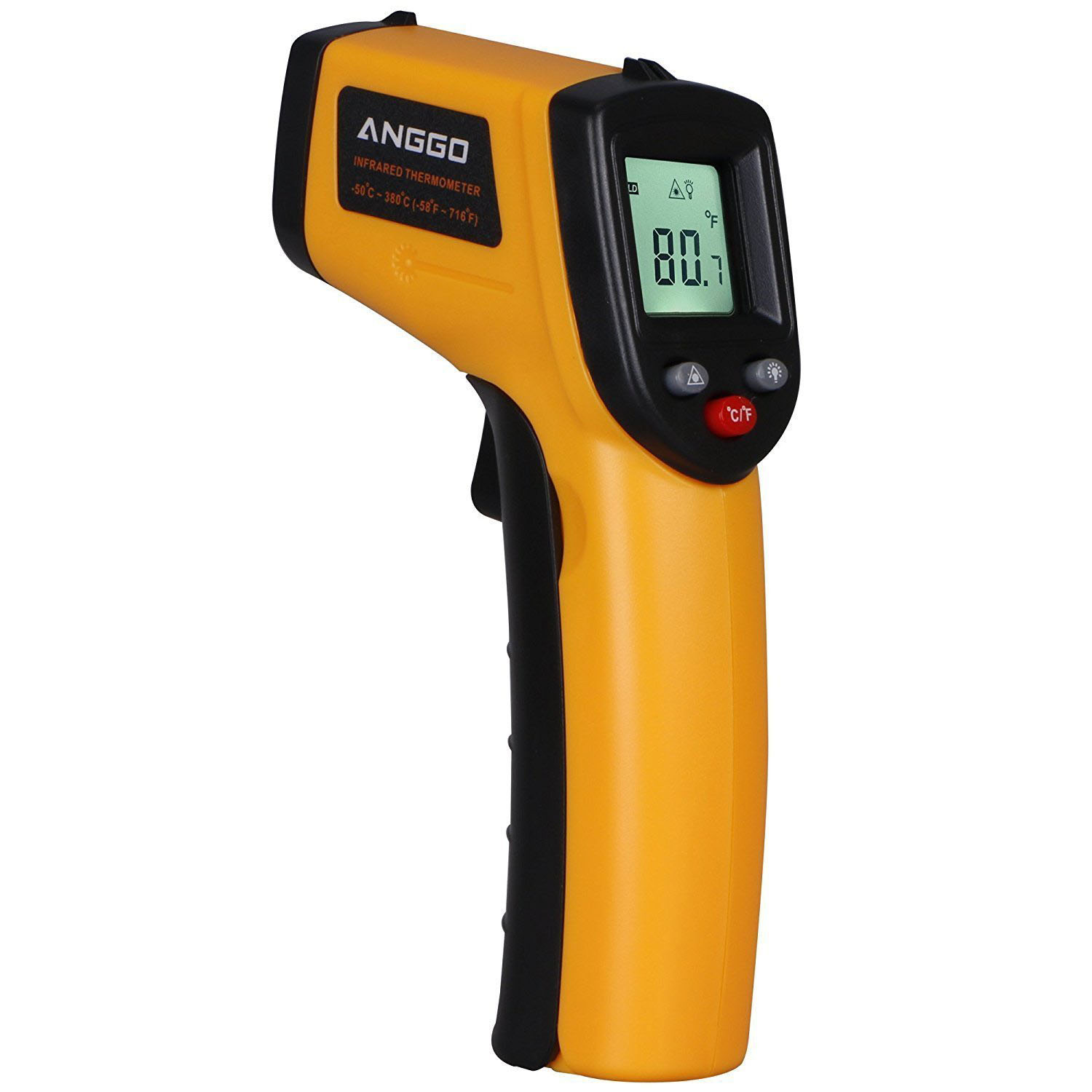 Next device in our review is the ANGGO GXL300. At the date of writing this review, this non-contact infrared thermometer has the lowest price and excellent functionality. Here you can also freely switch between degrees Celsius and Fahrenheit. For more precise aiming to the measured object, you must use the built-in laser pointer. This device works on two AAA batteries, which are included. The use of such batteries is useful because in case of emergency it is possible to use, for example, cells from the TV or air conditioning remote control. Temperature measuring range -50 ° C to 380 ° C / -58 ° F to 716 ° F, it's not much, but for home use should enough. If you want to measure the temperature of hotter surfaces (more than 380 ° C / 716 ° F), then you should consider another device for purchase. Excellent high-quality and straightforward instrument for this money.


Tacklife IT-T04 Con-contact Infrared Thermometer With Laser Targeting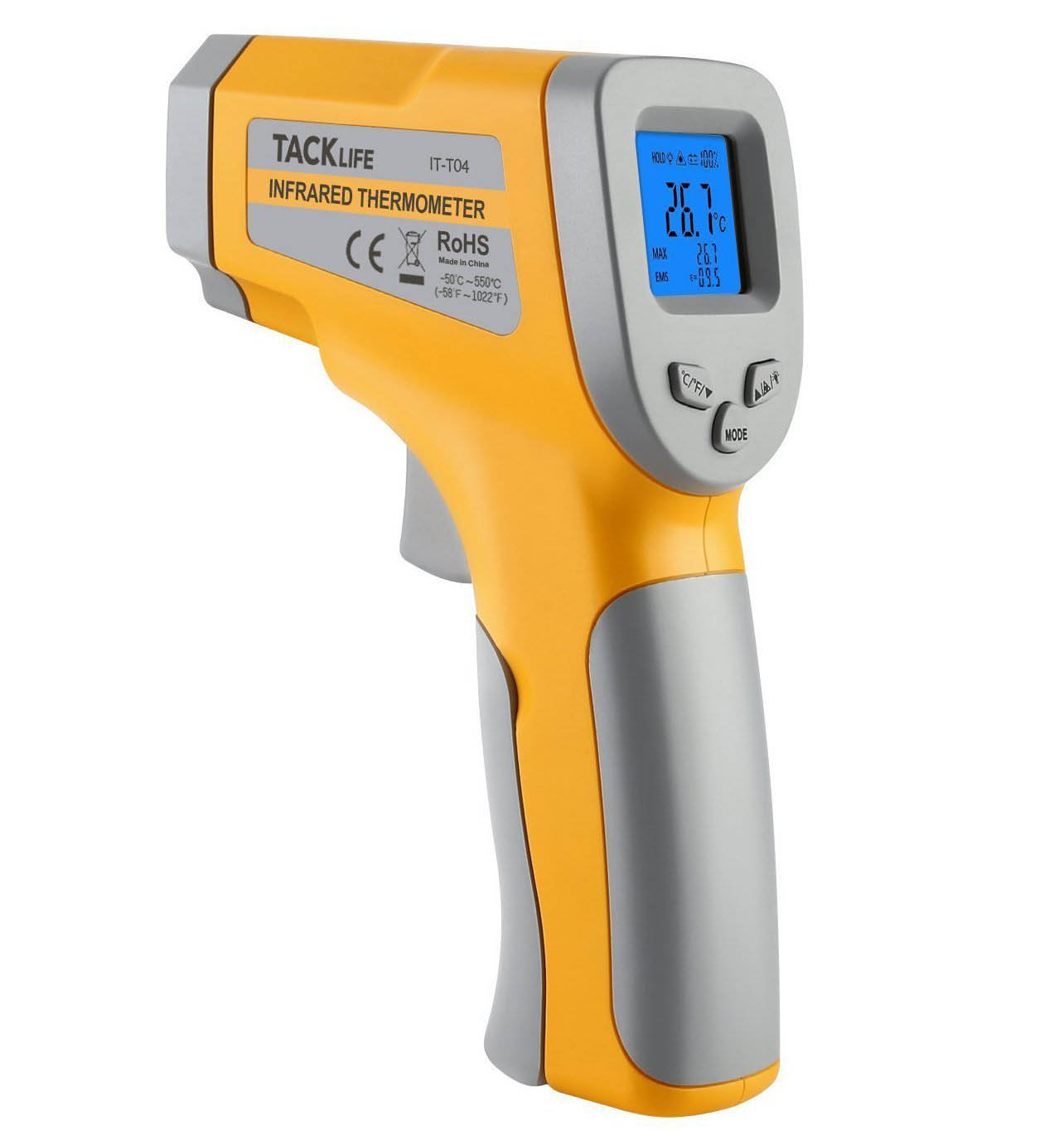 Tacklife IT-T04 has as most devices spot ratio 12:1 and good temperature ranging from -58°F~1022°F. As you can see in the photo, the device has a built-in backlight screen, which is very convenient. Adjustable emissivity will allow you to fine-tune the instrument for temperature measurement. So if you want to experiment and get more accurate readings for different surfaces, pay special attention to this device. Tacklife IT-T04 work from 9V Battery, that's already in complect. This battery lasts about 12 hours using the instrument. This time is quite enough for home use. Also, remember that this device is NOT designed for body temperature measurement. If you try to measure the temperature of the body, it will show the wrong results. 24-Month Warranty by Tacklife good plus for this device.


Koeson Professional Non-Contact Digital Laser Infrared Thermometer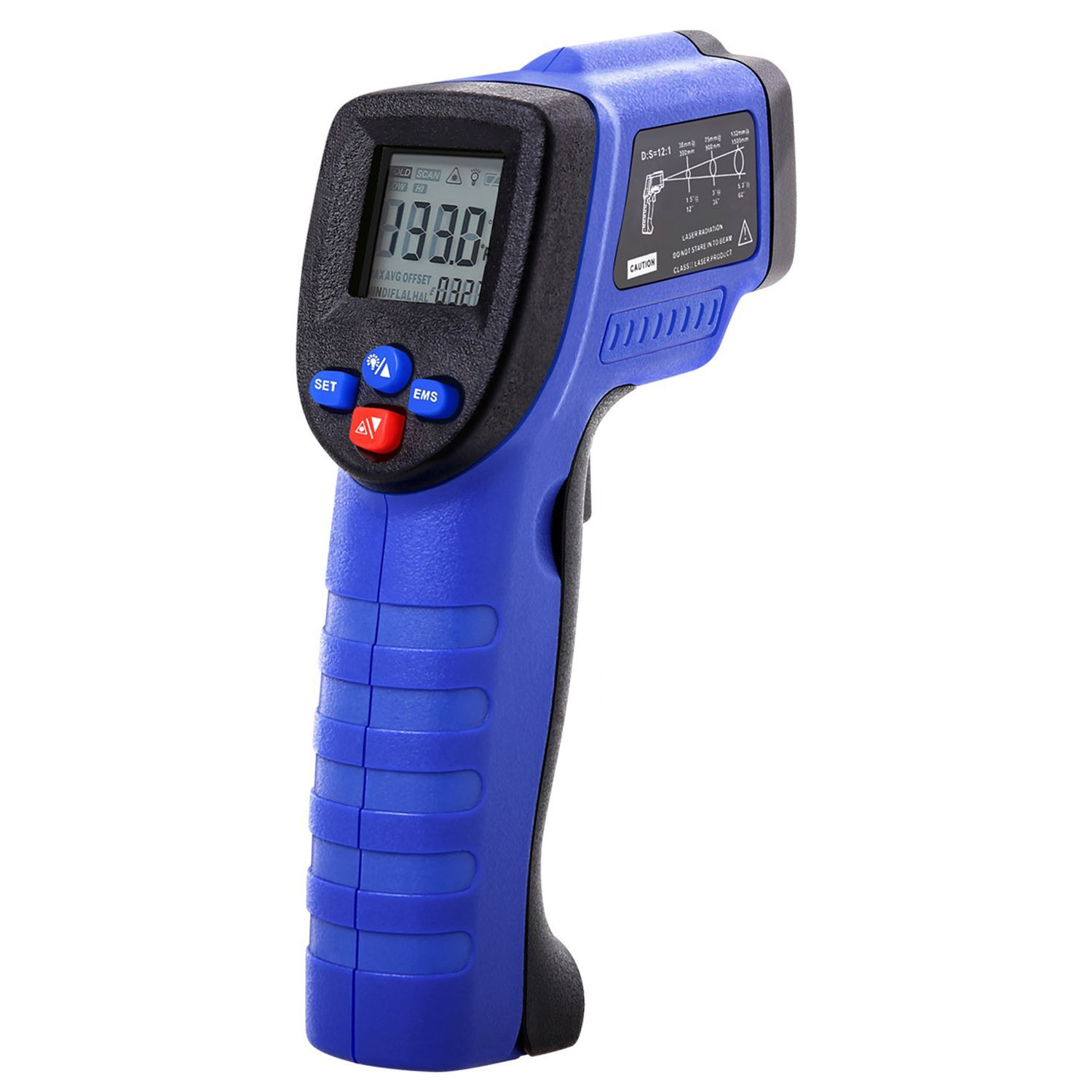 The body of the Koeson Digital IR Thermometer is made of durable blue or red plastic, which is less susceptible to contamination and destruction. This tool has the temperature ranging is -58℉~ 1022℉ (-50℃ ~ 550℃). High measurement accuracy will perfectly suit for cooking, barbecuing, automobile maintenance, fire-watch, electrical engineering and a host of other tasks. The 2x AAA batteries are included. Adjustable emissivity will allow you to get more accurate readings of the sensor, which is sometimes important. Emissivity can be adjusted within the limits of 0,1-1,0. Use this tool is as simple as all the others in our review. It is enough to aim the laser pointer of this device to any surface, and in less than a second, you will know the temperature. The installed laser pointer can be disabled if desired, or left enabled to show the precise location of the measurement.


Dr.meter IR-60 Non-Contact Laser Thermometer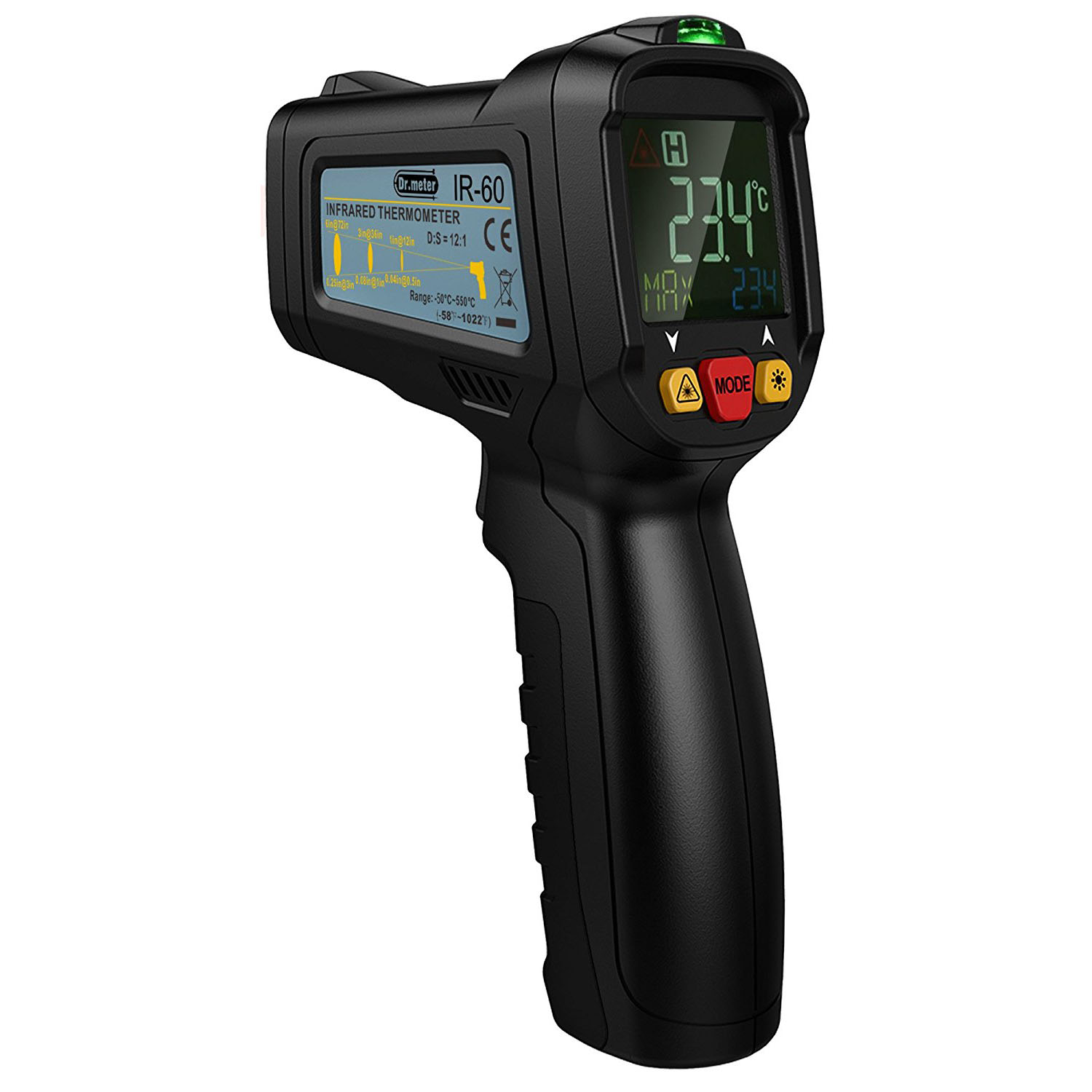 A very good thermometer in a standard case, but in a stylish black plastic (orange device we can buy too), on which there are not so much traces of dirt. This tool weighs 9.6 ounces and has color LCD backlit display. I want to note that the color display is the main feature of this device. Measures temperature from -58℉ to 1022℉ with an accuracy of 2℃/℉, the reading from -50 to 550 degrees C. A wide range of temperature measurements of the surface will cope with all your needs. As usual, the time for measuring the surface temperature is less than 0.5 s. For a more accurate aiming to object there is a built-in laser pointer to 12 points (circle). The device is powered by 9V Battery, which is already included.


Estink ES6530B Non-contact Infrared Thermometer With Laser Targeting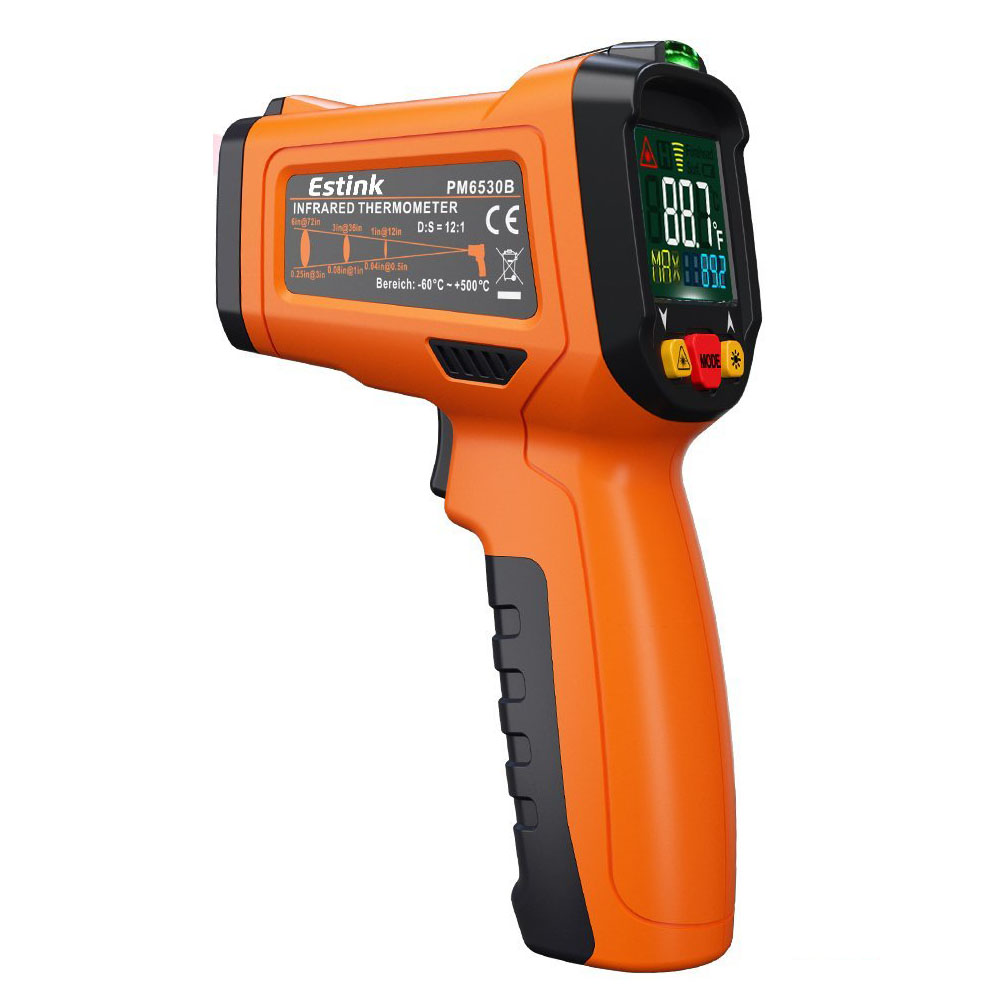 The main feature of this device is a color display. The thermometer readings on such a dislocation seem more distinct and expressive. The range of the temperature measurement range is quite standard -58 ° F to 1022 ° F / -50 ° C to 550 ° C. This range is suitable for measuring temperatures in almost all household matters. Also in the kit with this infrared pyrometer, you will receive a cover. Such a cover can be attached to the strap and wear a thermo-thetrack directly in it. It is very useful. The thermometer power on a 9v battery, which is already included with the device. For more accurate guidance on the object in the thermometer, there is a built-in laser pointer in the form of a circle. Very convenient tool for cooking and barbecuing, home repairs and many other tasks.


EnnoLogic eT650D Non-contact Infrared Thermometer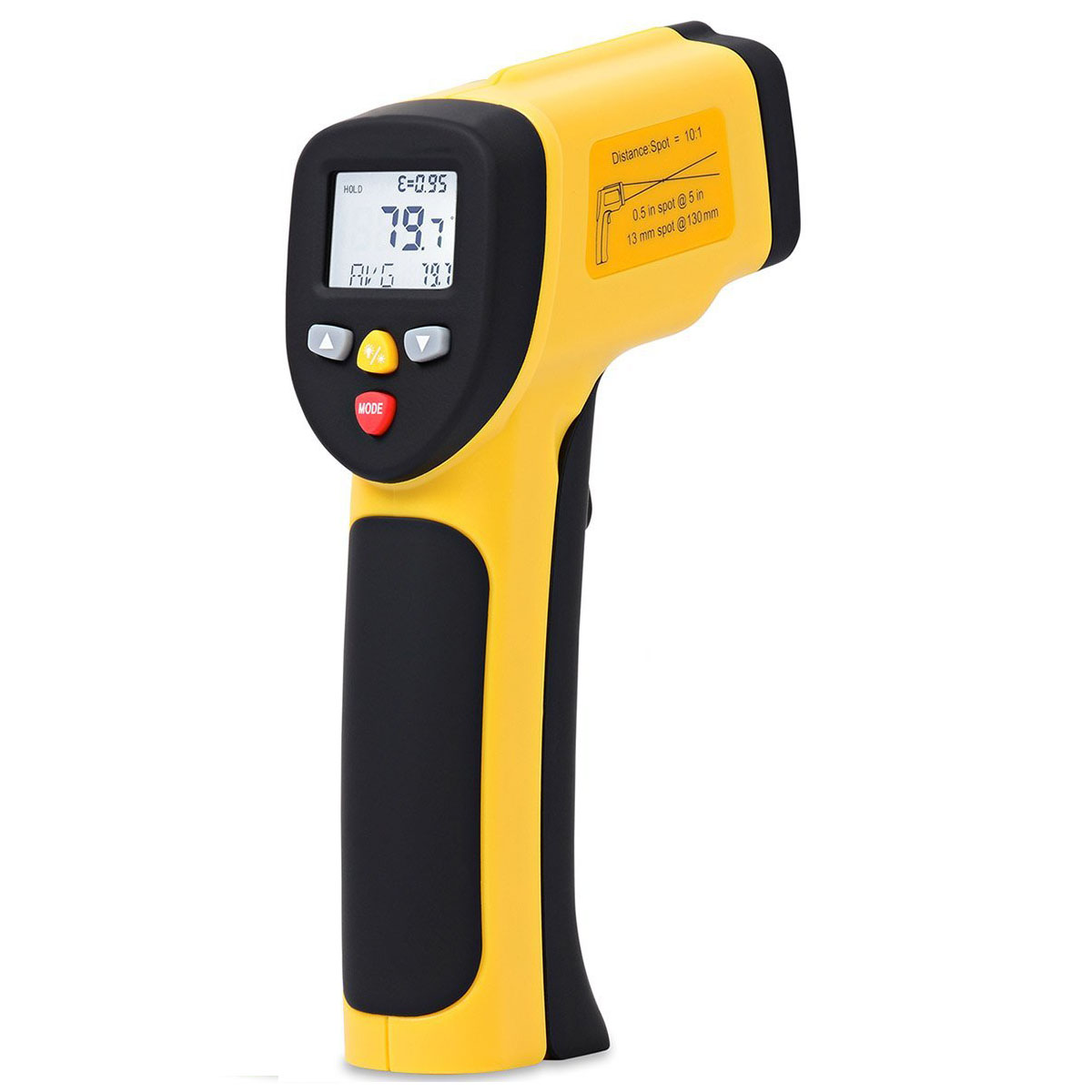 The ennoLogic eT650D infrared thermometer has a wider temperature measurement range than most similar devices -22 ° F to 1202 ° F / -30 ° C to 650 ° C. Toggle between °F and °C, and turn backlight and laser on and off individually, all settings retained between uses. Two built-in laser pointer helps you more accurately aim the thermometer to the target. Adjustable emissivity provides increased accuracy for different materials. With this device, you can find all the air leaks around doors and windows and for better heat savings. Also, complete with the device you will get a comfortable cover. The manufacturer of this device is so confident in its quality that it gives an extended warranty period. This period is ten years, which is undoubtedly a very long time. Therefore, for those who want to have a truly high-quality device ennoLogic eT650D perfectly suited. Good quality product and very accurate.


THZY Infrared thermometer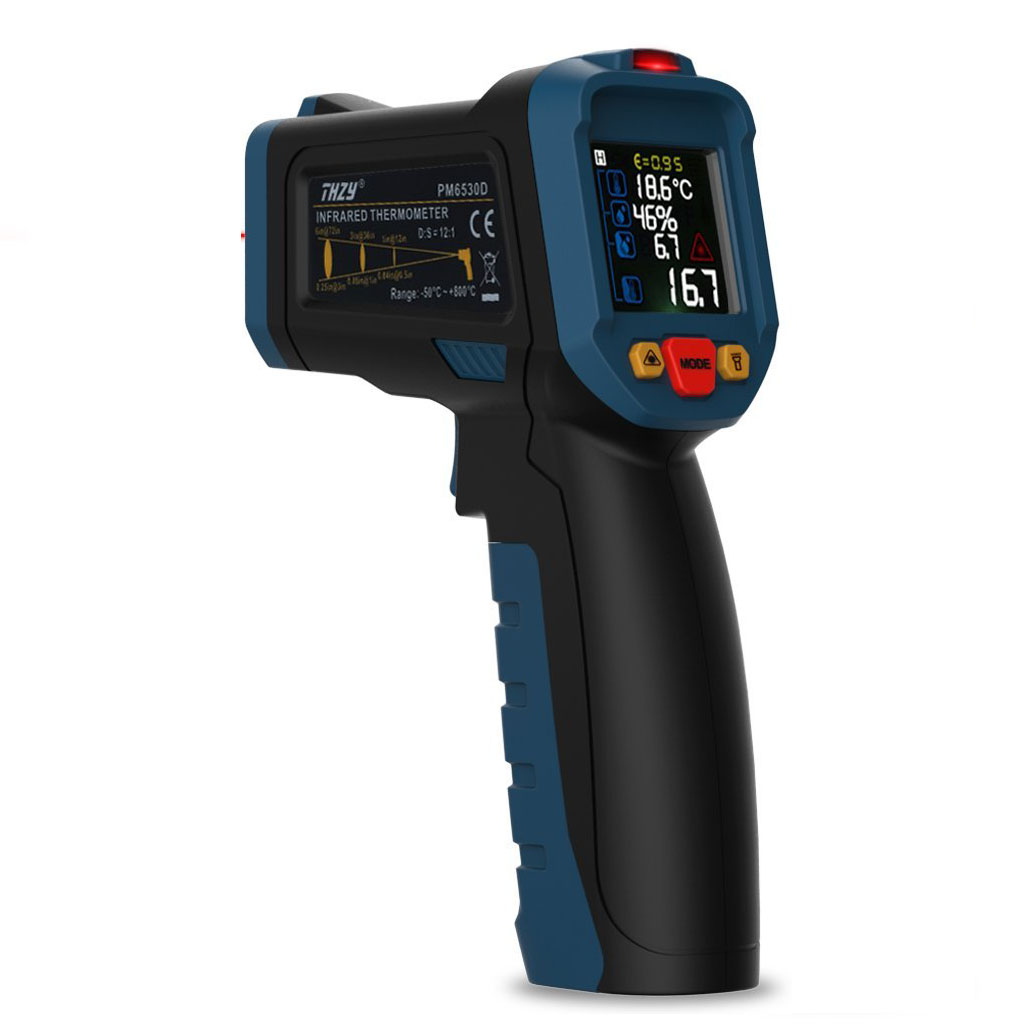 THZY Infrared thermometer has an extensive temperature measuring range – 14 ° F to 1472 ° F / -50 ℃ ~ 800 ℃. This device will not only be excellent for use at home, but also for professionals. The body of the device is made of black and blue plastic, on which there is not much traces of dirt. This is especially good for those who will often use this tool at work. On the bright display with backlighting, all data are clearly visible. A laser pointer in the form of a circle will help you accurately aim the device at the object of measurement. For example, you could go around the radiant heat floor and basically trace where the hot water tubes were located. In the kit with the digital infrared thermometer, you will receive a cover for its storage. The device is powered by a 9v battery, which is already included.


SURPEER IR5D Digital Infrared Thermometer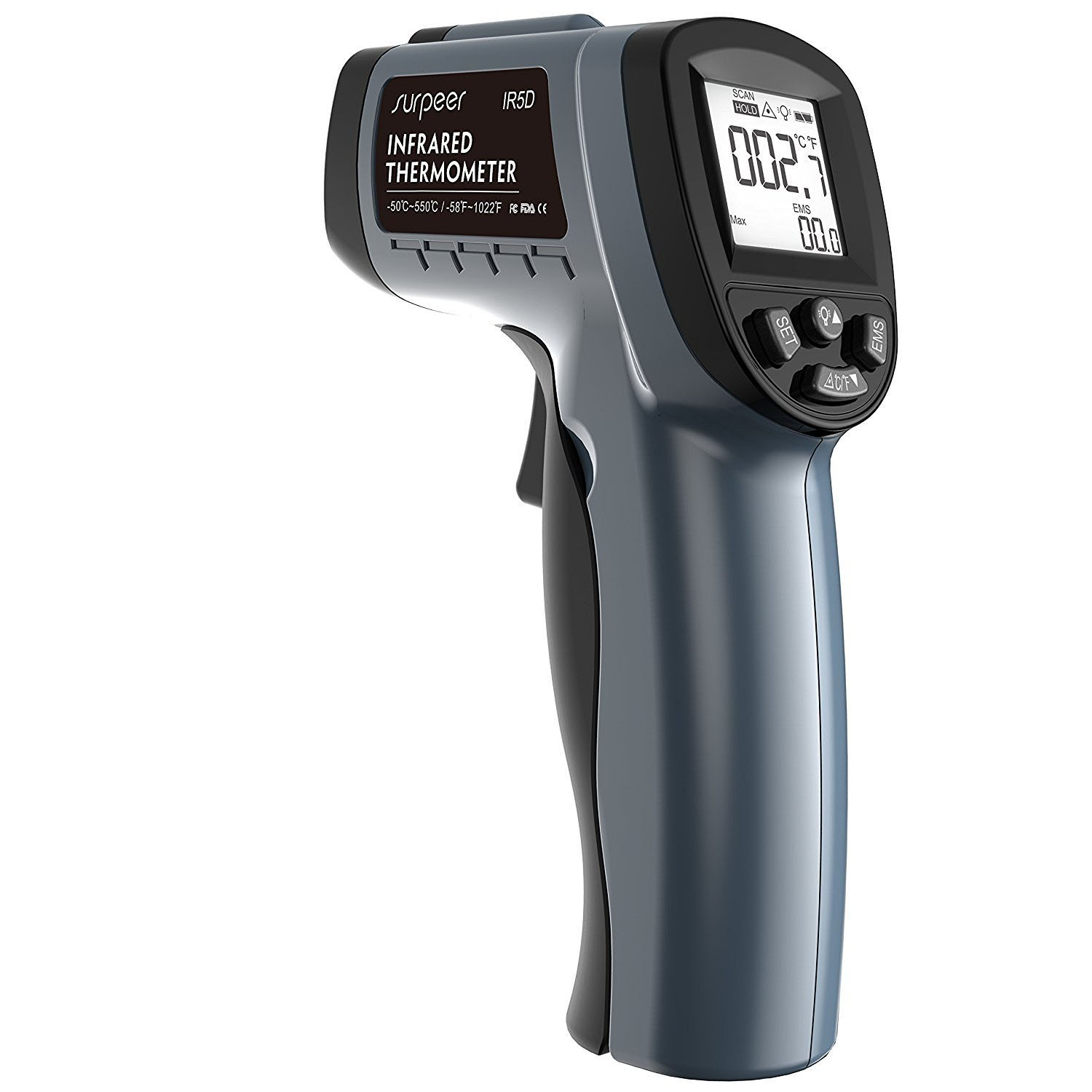 The body of the SURPEER IR5D is made of gray plastic, on which there is not much trace of dirt. The temperature measurement range is quite standard for such devices – -58 ° F to 1022 ° F / -50 ° C to 550 ° C. Also this non-contact infrared thermometer has a backlit display and an integrated laser for better guidance on the subject. SURPEER IR5D is powered by a 9v battery, which is already included. With this infrared pyrometer, you can quickly check the temp. of the vent or air blowing out of it with a simple point and shoot. The main advantage of this infrared thermometer is that in combination with it is sold Meat Thermometer. Given the price of only about $ 19 this is a very good offer.


Fluke Infrared Thermometer 62 MAX Plus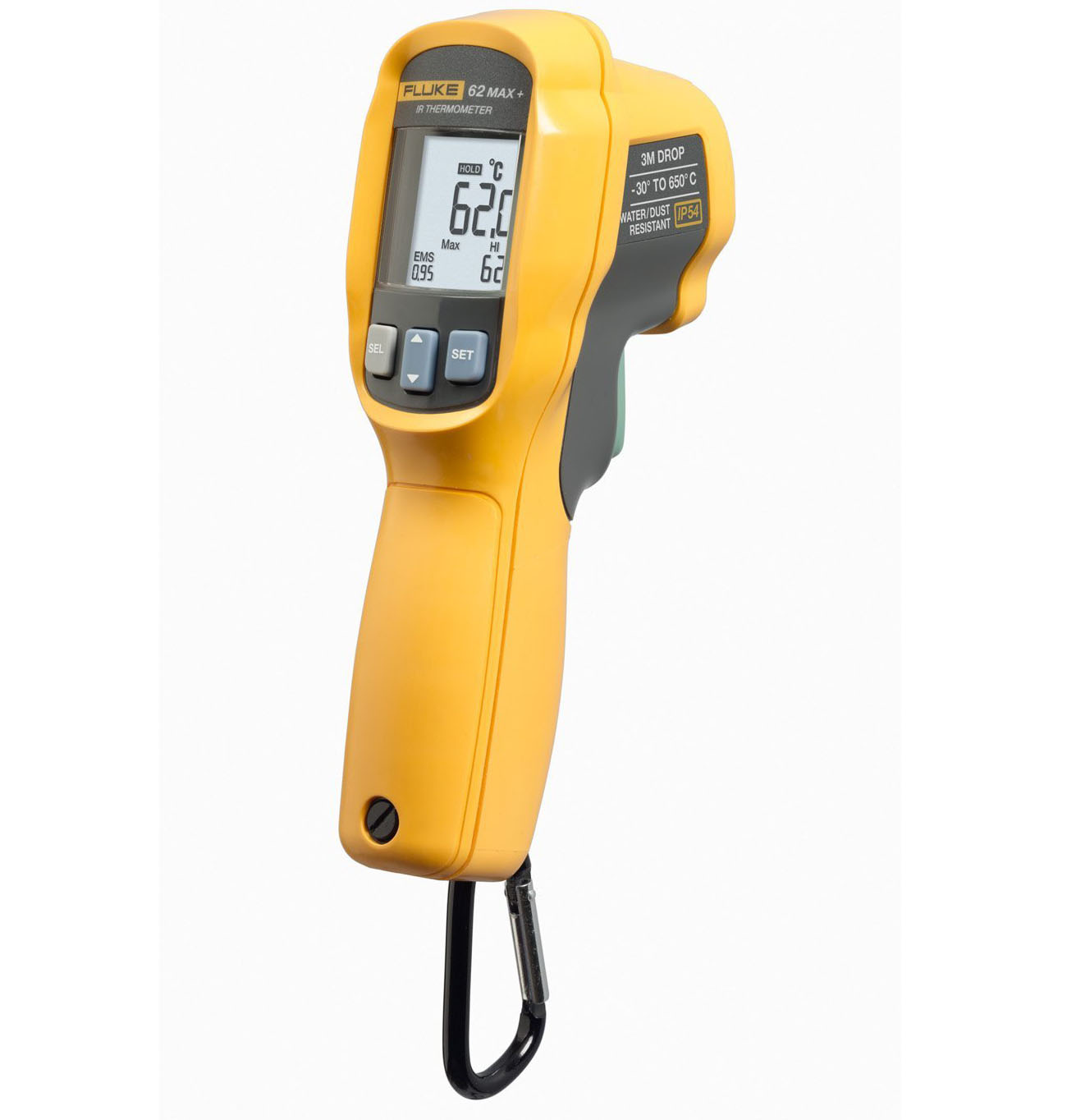 Fluke infrared thermometer from leading manufacturer of industrial testing equipment including electronic test equipment has been sold on the market for a very long time and very successfully. For all the sales time, more than 500 reviews were received with an average rating of 4.6/5. This is a very high rating and this one of the best infrared thermometer. Well, let's take a look at the basic characteristics of the Fluke 62 MAX Plus. The temperature measuring range is -22 ° F to 1202 ° F / -30 ° C to 650 ° C. This is enough for home and professional use. Large, backlit display — makes data easier to read, even in dark areas. Dual lasers rotate to pinpoint the edges of the measurement area. The main feature of the Fluke 62 MAX Plus is that certified IP54 for protection against dust and splashing liquid. IP54 rated for dust and water resistance. And this is very important for those who will use this device at work. Therefore, if you are a builder or an auto mechanic, then Fluke infrared thermometer is ideal for you.


Types of contactless thermometer
All infrared thermometers can be divided into three types:
Spot Infrared Laser Thermometer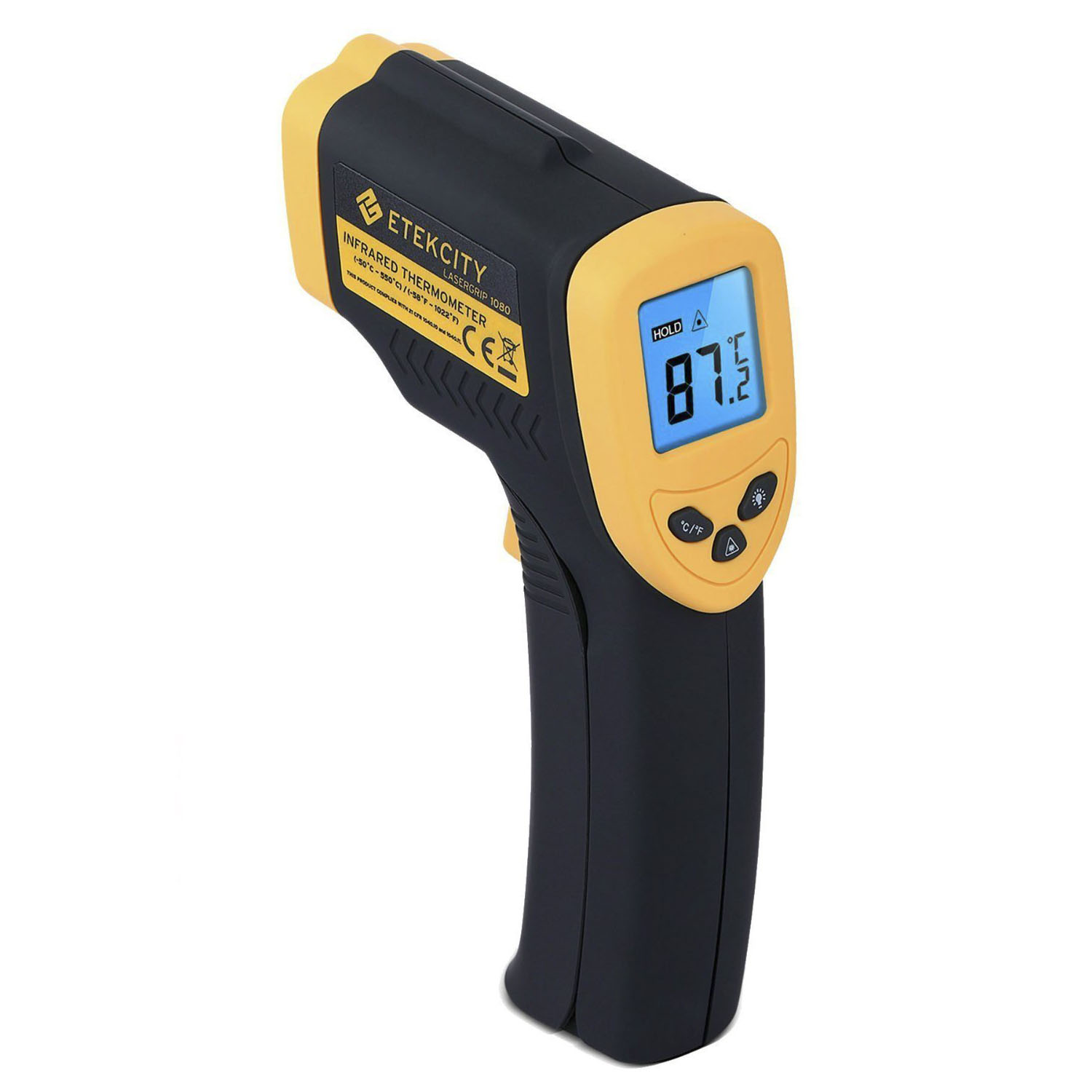 A spot infrared laser thermometer is the most common and not expensive type of infrared thermometers. Such contactless thermometer is very easy to use. To determine the temperature of the surface with such an instrument, need to aim it at any surface. In less than a second, you will receive temperature value of the surface. For more convenient targeting in an infrared thermometer was installed is a built-in laser pointer. Due to its simplicity and not a high price, such devices are widely used in a household. Using a spot laser temp reader, you can measure the temperature of almost any object. For example, it can be any dish during cooking in the kitchen, engine inside your car, radiator heater. The range of temperature measurement for such devices is quite wide -58 ° F to 1382 ° F / -50 ° C to 750 ° C and higher. To get more accurate instrument readings, it is important to observe the DS ratio.
Infrared line scanners
Infrared line scanners allow you to scan large areas. They are usually using a point thermometer, which is directed at a mirror that rotates. Up to 1024 measurement points per line can show real-time thermal imaging for continuous or discrete process. Such systems provides accurate temperature images of moving objects. Infrared line scanners are often used in factories where conveyors are present. For example, in such enterprises where sheets of glass or metal, cloth or paper are produced. Usually, infrared line scanners have large physical dimensions and are installed permanently.
Infrared Camera
According to the laws of physics, all objects whose temperature exceeds the temperature of absolute zero emit electromagnetic radiation. That is, the more the temperature of the object, the higher its glow in the infrared spectrum. Infrared camera is a device for shooting images in the infrared wavelength range. Most often the thermal imager is used as a night vision device or for obtaining the temperature field of the object. Using an infrared camera, you can instantly measure the temperature of tens of thousands of points of the object.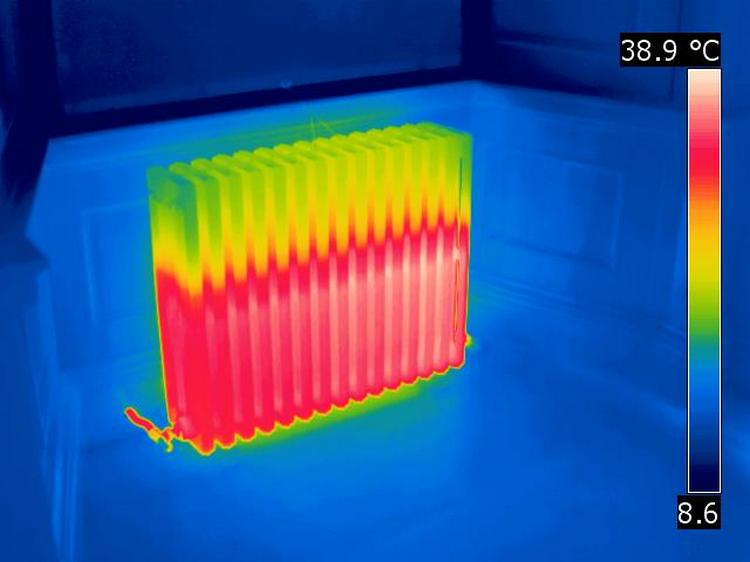 An infrared camera is difficult to manufacture and therefore belong to expensive devices. Electron-vacuum sensors, which were originally used in the design, are replaced by high-precision matrices, which, together with the lens, account for more than 90% of the cost of the device. Now scanning thermal imagers with optical scanning of electromechanical type are not applied. Matrices are built on the basis of bolometers – miniature thin-film temperature resistors. They catch infrared radiation and, warming up, transmit information to the device. Such devices are often used in night vision systems – it is much easier to detect heat-contrast targets. Also, infrared cameras are used in the aiming technique for rifle-type weapons, where germanium lenses are often used.
Modern infrared cameras have found broad application both in large industrial enterprises, where careful monitoring of the thermal state of objects is needed and in small organizations engaged in troubleshooting networks various purposes. For example, scanning with an infrared camera can accurately show the place of contact detachment in electrical wiring systems.
Such device widely uses in the construction of insulation properties of structures. So, for example, using an infrared camera, it is possible to determine the areas of the most significant heat loss in a newly built house and to draw a conclusion about the quality of the building materials and heaters used.
Infrared Thermometer Buying Guide
Range of temperature measurement
The first thing you need to pay attention to is the range of measured temperatures. Each infrared temp gun makes measurements in the fixed range. If you need to measure extremely hot objects or vice versa, extremely cold, then be sure to pay attention to this detail. Most digital infrared thermometer measure temp in the range of about -58 ° F to 1022 ° F / -50 ° C to 550 ° C. For home use, this temperature range is enough. If you want to make measurements somewhere in the industry, then you need to choose non-contact infrared thermometer that can measure temperatures over 800°C – 900°C.
Adjustable emissivity
The emissivity factor is an important indicator for obtaining accurate temperature readings of the object. Each material has its emissivity. Therefore, to get the exact temperature of the object surface, the infrared thermometer must be tuned to the corresponding emission factor. For example, for a brick, such a coefficient will be much higher than for an aluminum sheet. It should also be noted that not all infrared thermometers allow you to adjust the emissivity. Therefore, this should also pay attention.
DS ratio of infrared thermometers
Criterion for choosing a non-contact infrared thermometer is DS ratio. This criterion takes into account the diameter of the temperature measurement zone (measured spot). The farther you are from the object, the larger the area the infrared thermometer will read. For most devices, the DS is 12: 1. This means if you measure the object at a distance of 12 inches, then the spot area will be 1 inch. If the distance is increased 3 times and it becomes 36 inches, then the spot area will already be 3 inches. For a more illustrative example, we suggest that you familiarize yourself with the schematic image.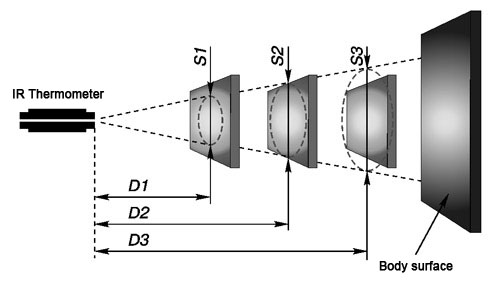 D is the distance to the object;
S is the diameter of the spot being measured.
Case D1: S1 – the object is larger than the diameter of the pyrometer spot – the most correct one, allows to obtain the exact value of the object temperature.
Case D2: S2 – the object is equal to the diameter of the spot – it is possible, but not recommended.
Case D3: S3 – the object is smaller than the diameter of the pyrometer spot – wrong, the indication will be influenced by the energy of the background or surrounding objects.
Manufacturer warranty for the contactless thermometer
An infrared thermometer has few details inside, so they rarely break. Almost all ir thermometers have manufacturer's warranty. But these terms can vary significantly from 90 days to 10 years. Therefore, if you want to be sure that you will not lose money in the event of a sudden breakdown of the instrument, then be sure to pay attention to this point.
How much money are you willing to spend?
If you are going to use an infrared thermometer rarely, you should limit the purchase of the device at a price of $ 20-30. The thermometer for such money will work perfectly at home. For those who want to use the thermometer at work, it is desirable to pay attention to devices that are more expensive. Usually, they are made more qualitatively and calculated