Stud finder is a small device that is used to determine exact location of framing studs that are located behind the drywall. If you need to hang a picture or a TV, install shelf that stud finder will help you deal with a problem. With this device, you can immediately find a suitable place on the wall without making any extra holes. For this, you need just simply attach the device to the wall, and it will give you to know where the right place.
If you want to hang something heavy on the wall, like TV without using a stud finder, then you can overtake failure. Simple drywall does not have enough strength to hang heavy items on the wall. So when you install something you should hit exactly in framing stud.
Types of stud finders
These devices are classified into two categories – magnetic and electronic. In the market there are several types stud finders with magnets and the rest majority are electronic.
Magnet
Powerful magnet which is free to move in a magnet stud finder and when they drive over the wall, he attracted to the metal that is inside the wall and doing a thud. Such wall stud finders will work well in new homes where the walls are made of thin drywall. The distance between the studs and the magnet will be minimal, and the magnet will easily be attracted to metal. But in old houses, the screws are located under a thick layer of plaster, and a simple magnet can not detect them. Therefore, before buying stud finder is important to think about where you will use the tool.
Electronic
Electronic stud finders may have a different purpose and work with various types of materials. The simplest stud detector may indicate the edge of the stud that is in a wall. And no matter what material it is made of metal or wood. So with the help of the more expensive models, you can find not only studs and screws, and even plastic pipes and AC wires.
Now friends let's dive in to article and try to choose best stud finder 2018.
Stud finders comparison
Best Stud Finders Reviews
Diamond Resource 10129-ST Stud Thud Magnetic Stud Finder Review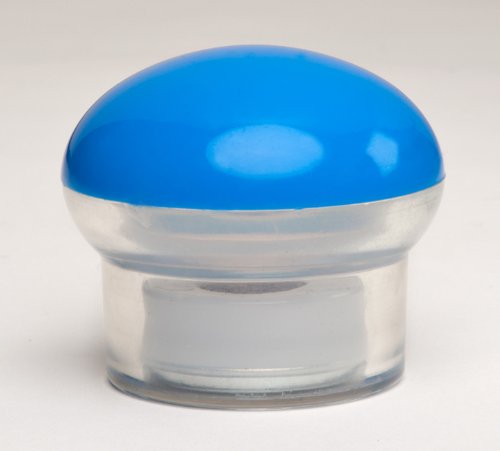 This magnetic stud finder is one of the simplest in today's review. It's based on a powerful neodymium magnet, which will help you find the metal framing stud behind your drywall. Its simplicity and low price make it an excellent choice for simple home use. Metal stud detector does not give false alarms due to the simplicity of its design. If this stud finder magnet detects a framing stud you will hear an alarm. Like two magnets banging each other.
However, if you want to find copper pipes behind the wall or wiring, this problem for this stud finder is not under force. He can only find items that can be magnets. It is also a good solution if you need to find hidden nails on a blackboard. But you must take into account that the size of the nail should be sufficient to enable them to magnets. Diamond Resource 10129-ST good stud finder for rare using, but if you have a few extra bucks, I recommend buying a more functional device.

Studpop 100480-SP Magnetic Stud Finder Review


Second representative of the cheapest category. According to its functionality, magnetic stud finder is entirely similar to the Diamond Resource. However, this model has only two differences. The first is the appearance of the unit. The second – the country of manufacture device is USA. The seller proudly declares about that. Whether it's a plus for you to decide. At this time not many manufacturers can produce tools in the USA, almost all of imported from China.

CH Hanson 03040 Magnetic Stud Finder Review

This magnetic stud finder also very cheap and works using neodymium magnets. It has two magnets. It is made possible to determine the framing stud behind the wall more accurately. This stud finder tool is quite good in the hand, making it easy to use. The main thing that sets it apart from the competition is the availability of 2-way bubble level. Owners of older homes may want to avoid from buying this cheap stud finder because it does not always find hidden nails in the old walls with a large layer of plaster. For a wall, which made from the drywall this device will work pretty well. The best stud finder 2018 for the money that seller wants and does not require batteries.

Zircon m40-FFP Stud Locator Review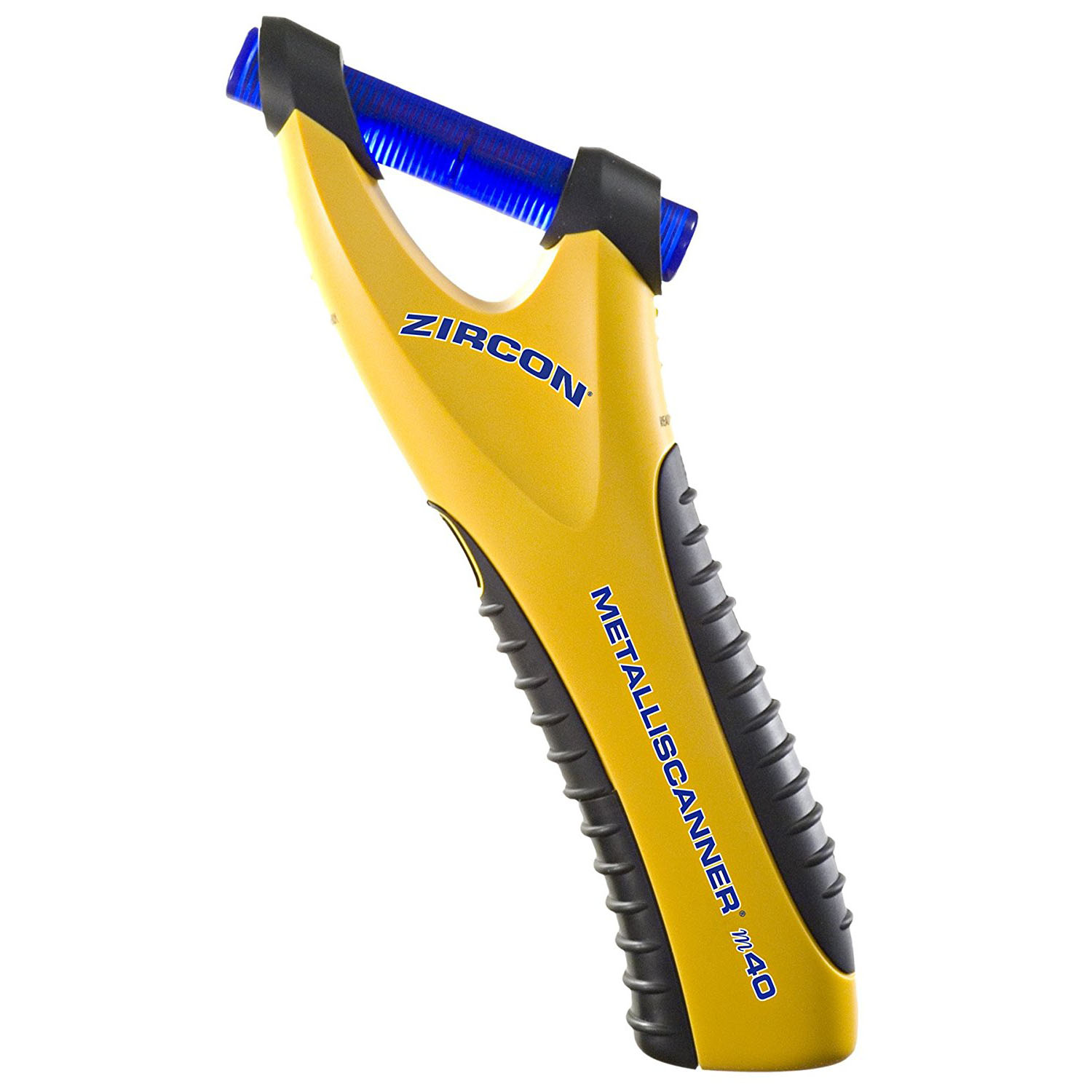 This stud finder review and all reviews below about electric devices. This stud locator allows you to detect any metal objects in the wall. For magnetic metal objects depth scanning is 4 inches. For non-magnetic metal objects depth scanning is 2 inches. Scanning can be performed by almost any surface. Its paneling, tile, wood, drywall, stucco, plaster, concrete and other non-metallic surfaces. This electronic stud finder is great for finding hidden nails in a tree or plastered walls and finding rebar in concrete.
Zircon m40-FFP works simply. Through smooth movements on the wall the tool starts beeping and lights if it finds metal in the wall. For it to work you will need a battery 9v which is already in the set. This stud finder good fit for both home use and professionals.

all-sun TS79 Wood Stud Finder Electronic Sensor Review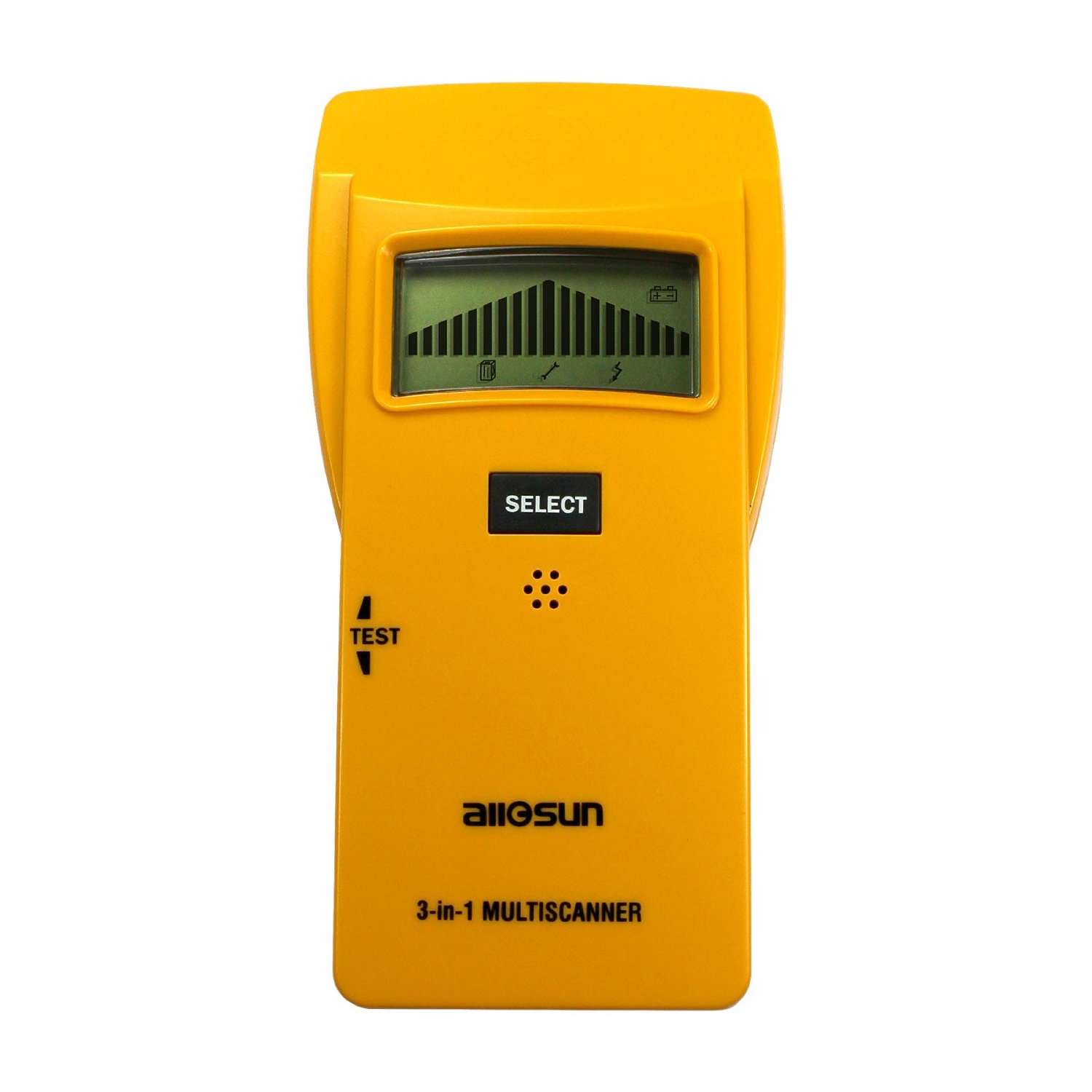 Not an expensive electric stud sensor, which will help you to find wood or metal stud, pipes and AC wires behind your walls. This tool can detect any material before drilling, cutting or nailing with this handy auto calibrated detector.
On the front of the device located select button for selecting one of three modes: wood/metal/AC wires. All-sun TS79 is certainly very easy to use. Also note that the LCD does not have its lighting, so it should be used in a light room. Moreover, TS79 is no complete set of batteries, and you have to buy it separately
Best this tool works on plank wall and drywall. So use it to concrete walls and plaster walls is not recommended.

Franklin ProSensor 710PRO Digital Stud Finder Review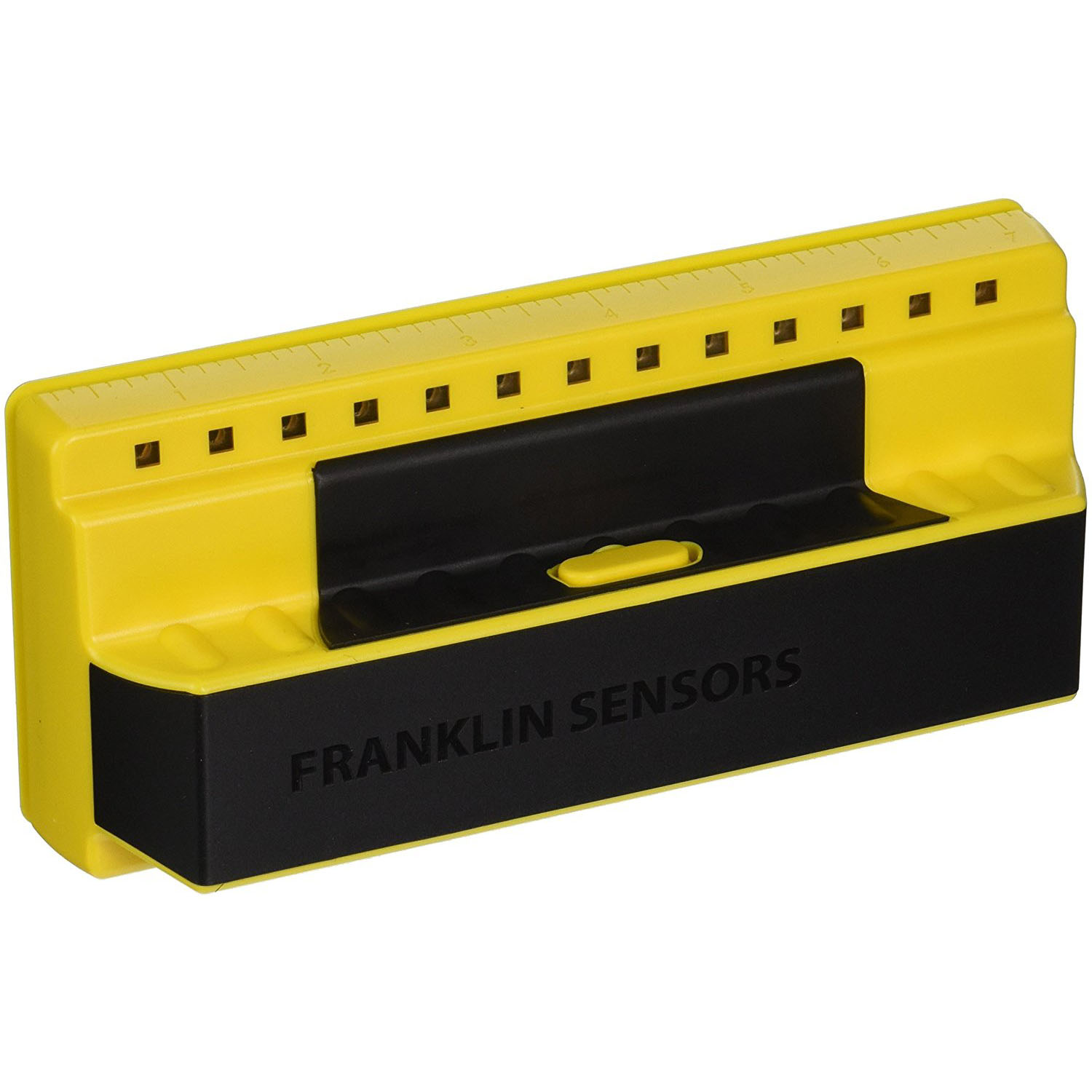 It is very simple and easy-to-use model. Alternatively LSD display here has a number of LEDs. When you move the tool along the wall light of LEDs give you to know exactly where the object is located behind the wall and what its full size. Also, this stud sensor can show a number of different objects behind the wall. Due to its simplicity, it can be used by any interested person who has no experience.
With ProSensor 710PRO you can execute deep scanning up to 1.5 inches. This stud detector with ease and with no false positives can find in your wall pipes, wires, and metal or wood studs. And as usual batteries in the kit you don't get. Franklin ProSensor 710PRO Stud Finder with Built-in Bubble Level and Ruler is present on the market since 2015 and has many good reviews.
If you have little experience with similar tools then ProSensor 710PRO will be best wall stud finder due to the simplicity. Also considering its price and functionality I say, that is best stud finder 2018. You will not regret if you buy this tool.

Zircon e50-FFP Wall Stud Detector Review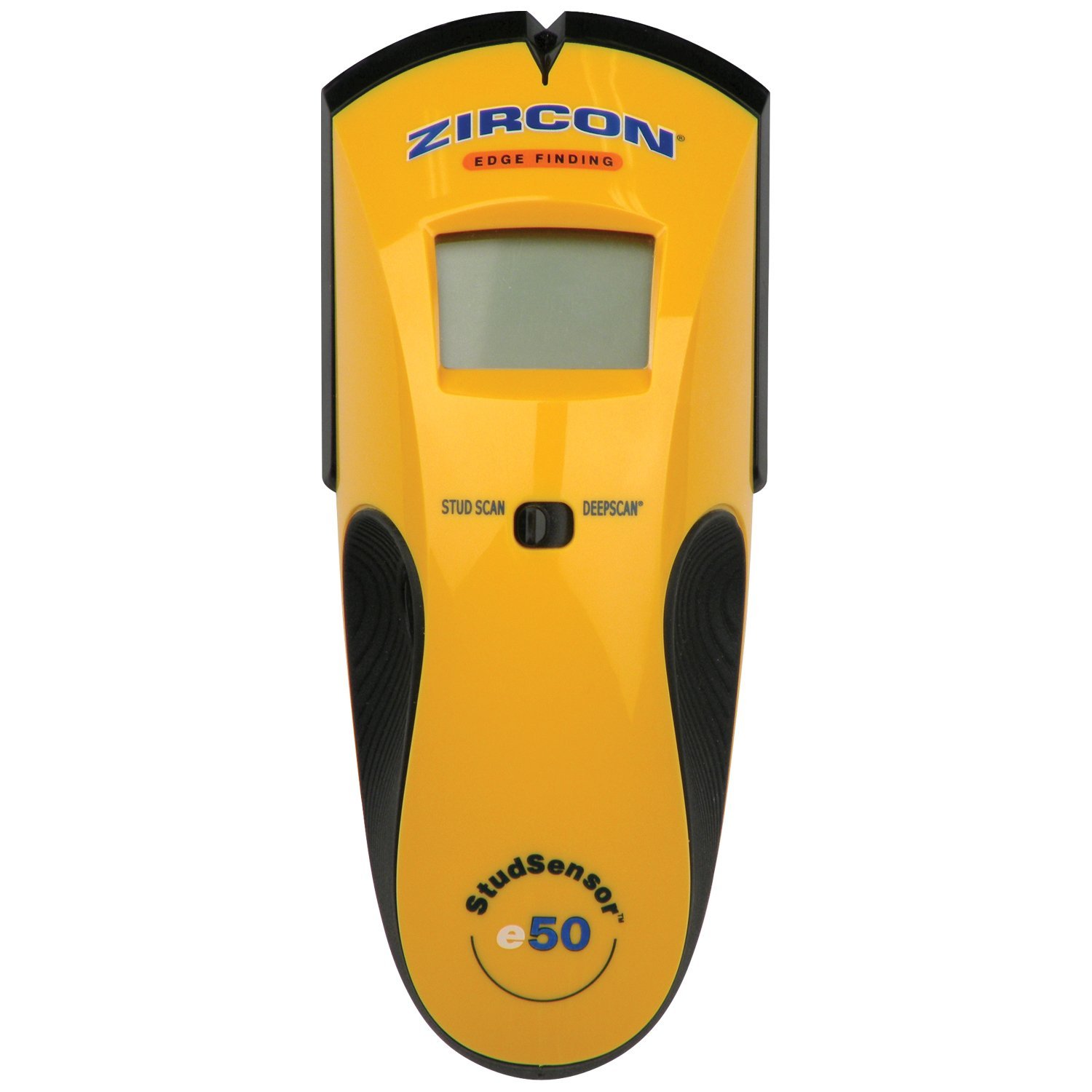 This electronic stud finder on the market since 2010 and has already managed to win the trust of customers. With Zircon e50 you can find the edge of metal or wood studs up to 3/4-inch (19 mm) deep on stud scan mode. The second mode is a deep scan mode, which allows you to scan up to 1-1 / 2 inches deep. Also, digital stud finder is suitable for finding AC wires. This stud locator is designed for hollow interior walls, therefore, scan the floor tiles is not recommended. The LCD is not lighting. When the tool detects a stud then you will hear the signal and see the red light at the top of the device. To some extent this compensates for the lack of backlight.
The advantages include the ergonomic design of the wall stud detector that is comfortable to hold from any angle. For your information with this product battery is not included.

Black & Decker BDL190S BullsEye Stud Finder Laser Level Combo Review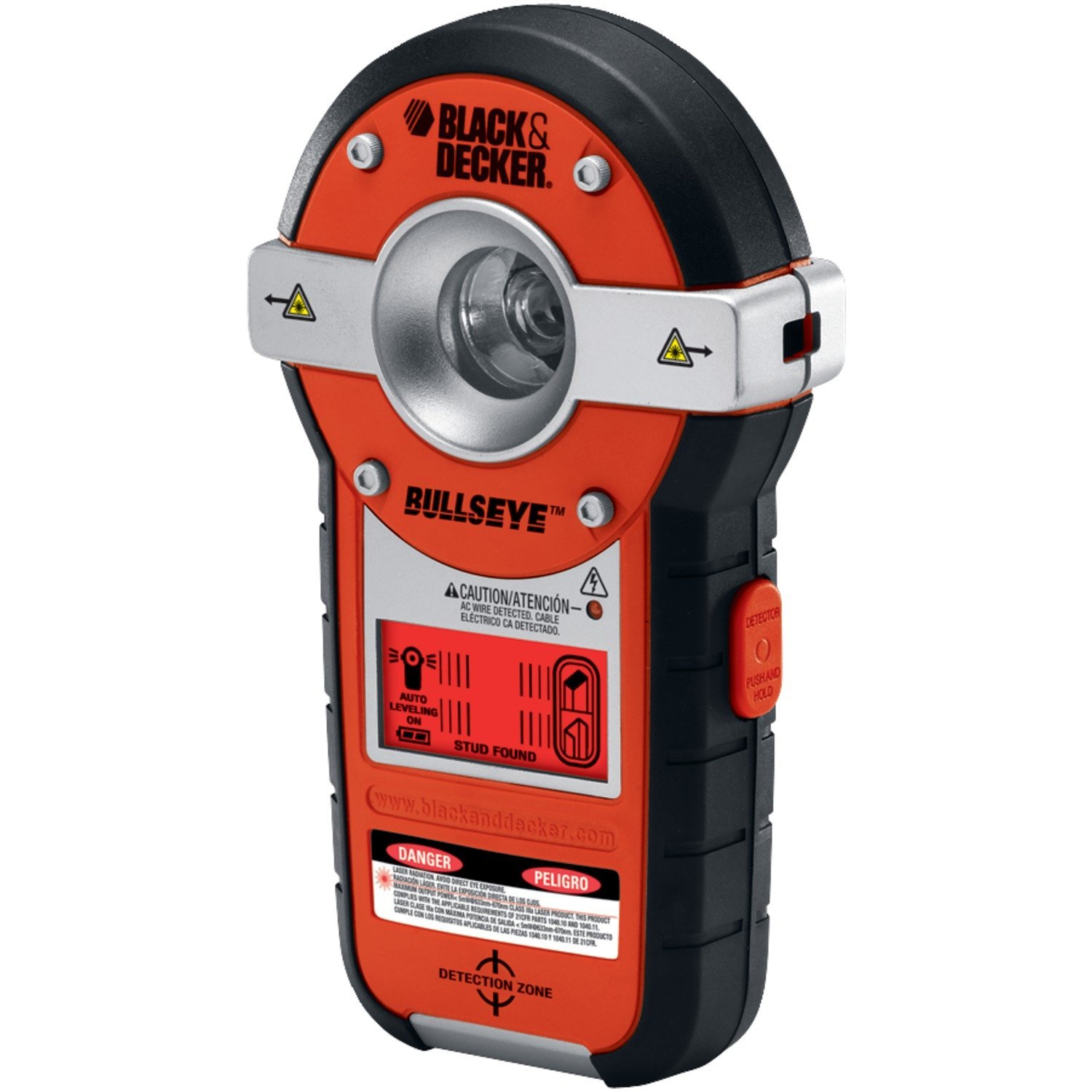 This best laser level stud finder belongs to the mid-market, and its price is about 50 dollars. In fact, it is not only the stud finder but also the laser level. Laser level and stud finder will be very helpful if you want to hang a picture or shelf strictly horizontal without using any additional tools. Because of the auto-leveling laser feature, you do not have to spend time configure it. Just turn on the laser and is aligned horizontally within seconds automatically.
But to use this stud finder laser level combo you will have to fix the tool to the wall and it will require making not a big hole. This is true if you do not have a pair of extra hands. Some may not like it. But I can tell you that there is nothing wrong because this hole almost always will close an object that hangs on the wall.
BDL190s stud finder with laser level helps you detects wood, metal, studs and live A/C wires. Nice to see that the display on this device is present lights. You do not have to buy batteries separately, they have come with the tool. Our resume – this is good combination laser level stud finder.

Dewalt DCT419S1 Wall Scanner Review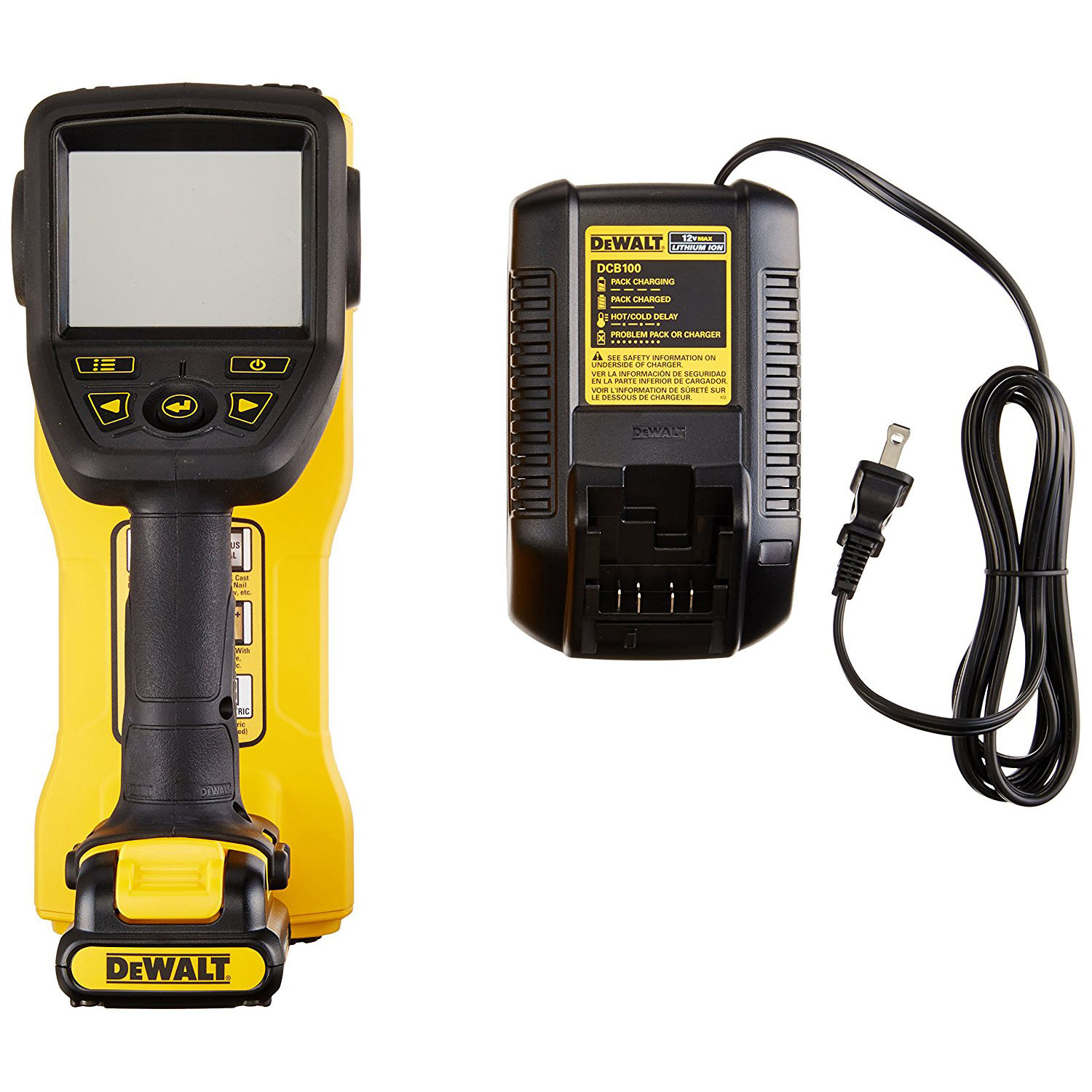 This wall stud finder belongs to the category of professional and more expensive. Dewalt DCT419S1 can detect five types of material embedded in the wall. This is are wood, non-ferrous metal, plastic, ferrous metal, live electric (unshielded). As you can see, this tool can seek plastic. But I want to warn you that you did not try to look for them in your plastic pipe wall. He anyway can not find them. This is because the tool scans drywall depth of not more than 3 inches, and your pipes can be located deeper. Also you can use stud finder for plaster walls.
In addition, DCT419S1 can scan through multiple wall surfaces including concrete, plywood, drywall and ceramic tile. Powerful sensor scans up to 3 inches in depth. 3.5-inch color display shows you the location of the object behind the wall. It looks very user-friendly and informative.
Batteries you do not have to buy because it included already have a lithium-ion battery.
Among the few drawbacks of this device is only its price. This wall scanner excellent choose for general contractors, remodelers, installers, and service technicians.

Bosch D-TECT 120 Wall and Floor Detection Scanner Review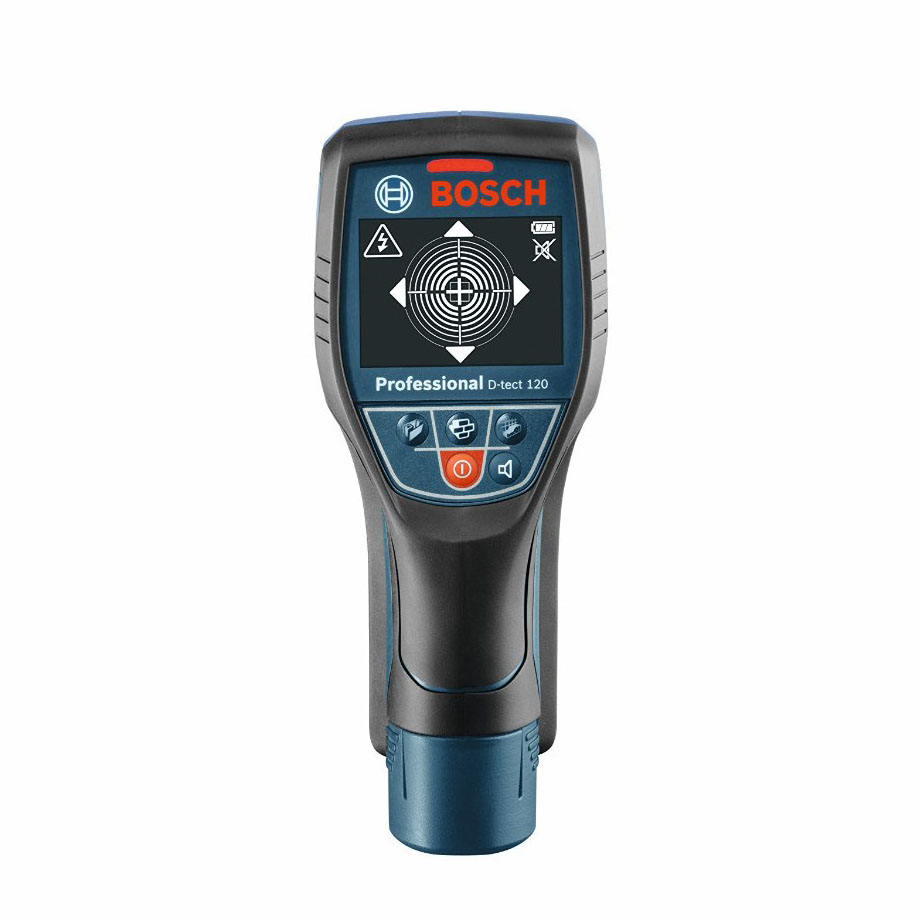 This tool is classified as professional. This is evidenced by its price and feature set. This professional stud finder has three modes. First – total for scanning all types of surfaces. Second – for the scanning concrete walls. And third for the scan drywall. The display helps you pinpoint the center of any object behind the wall.
Joist detector is also easy to determine any of the five materials in the wall. This is are wood, non-ferrous metal, plastic, ferrous metal, live electric (unshielded). Included with the device you will get 4 AA batteries. This maybe best wire detector best pipe detector as well as Dewalt DCT419S1.
Bosch has long worked in the market of building tools and has earned an excellent reputation. This stud detector is perfect for professional builders. For home use it has a high enough price.

Stud Finder Buying guide
Before you purchase the most suitable device to answer yourself a few questions. This is necessary that you do not spend extra money on a stud finder that you will not often use. Also, if you buy too cheap device then do not expect much from it.
For what I will use it?
If you plan to search only the metal stud or iron nails in the wall, then handle this the cheapest model. And if you intend to look the plastic pipes or AC wires inside walls, there is already need to buy a professional tool.
You are a professional builder or just want to hang a shelf?
If you are a professional builder, you require high accuracy, durability, and reliability of your instrument. Therefore, you should think about buying a top rated stud finders like Bosh, Dewalt that has been specifically designed for professionals. Such tools have a high-quality display and can find almost any object inside the wall with a low probability of false positives.
How much money you are willing to spend?
In this stud finder review 2018, I consider the price of the device from less than 10$ to 250+ dollars. Stud finder cost depends on the brand, condition, and functionality of the instrument. With a fixed budget, it will help you narrow down the search for the appropriate tool. If you plan to use the stud finder several times, something stupid to spend on it a lot of money. But if you are a professional builder then you should choose top rated stud finder for professional that greatly simplify your workflow.
Buy new stud detector or used?
Buying a used device is a good way to save money for some people. Often people only after purchasing the product, understand that they are not suitable for them, and they return it to the seller. The seller no longer has the right to sell such goods as new, and therefore reduce the price on it.
How valuable brand for you?
In the world there are many different manufacturers of stud finders. But some of them have long been working and had time to earn the trust of its customers. Among their number can be called such brands: Bosch, Stanley, Zircon, Dewalt. Depending on the brand price of the device can be very different. Do not forget that the brand is first and foremost the quality of the device.
What problems can occur when using a stud finder?
A stud finder is a tool that does not always work correctly. Before buying, you should be familiar with the issues that occur when working with tool.
First of all, buyers often complain about false positives tool. Sometimes the tool finds screws in the wall which really is not there.
The second problem is the frequency of occurrence is when the device does not locate the stud at the expected location. This is because the wall thickness of the size that can scan stud finder. It's especially true for old houses. The walls in these homes with a thick layer of plaster, which can not scan each device. Always remember that not exist a tool that will work flawlessly for everyone. Therefore, we create for your reviews that should help in choosing the right tool for your needs.
What about the price of a stud finder?
The price of the stud finder can vary significantly depending on the device. Starting at less than $ 10 on the easiest tool for home use, which is only suitable for home use. And more than $ 200 price for a professional tool that can accurately determine the location of an object behind a wall of almost any material. If don't now where to buy a stud finder then consider proposals on Amazon. I strongly recommended buy tools that cost no more than 70-80$. Stud finder not that tool, which uses every day and spends big money no need.
How Do You Use a Stud Finder
Use stud finder is easy and operation with all models of the same. This is true for models for $ 10 and 200+. To find the stud in the wall you need to hold the tool smoothly along the wall from side to side. When stud detector locates something, the tool will give you to know about it. You will only need to make a mark on the wall. If you need more detailed instructions for use stud finder, then I recommend reading the article about
six steps to hang any object
.
How to Use a Stud Finder to Find Wall Studs Video
How to Hang TV on wall Mount Into Stud and Drywall Video
History of stud finders
If we look at history, we find out that the stud finder was first designed by Robert Franklin in 1977. According to his patent Zircon Corporation, an electronics manufacturer in Campbell, California, was the sole manufacturer of stud finders until 1998 according to the source. Upon expiration of the patent, other brands began produced stud finders too. In this regard, the popularity of such tools has grown significantly. With more sensors, these instant stud finders avoid the shortcomings of previous electronic stud finders, which require calibration and don't adapt to inconsistencies in wall construction. While the instant stud finders have made finding studs an easy and efficient task, many people still use magnetic stud detectors.